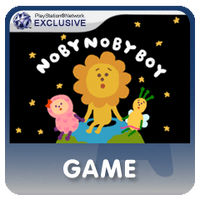 Noby Noby Boy (のびのびBOY, Nobi Nobi Boy) is a video game for the PlayStation 3 by Keita Takahashi of Namco Bandai, creator of the Katamari Damacy series. The game was released worldwide on February 19, 2009. A version for the iPhone OS has been made and has been released on February 18, 2010. Prince and Foomin appear in the game.
External Links
Edit
Ad blocker interference detected!
Wikia is a free-to-use site that makes money from advertising. We have a modified experience for viewers using ad blockers

Wikia is not accessible if you've made further modifications. Remove the custom ad blocker rule(s) and the page will load as expected.