Home
Talk

8
185pages on
this wiki
Featured article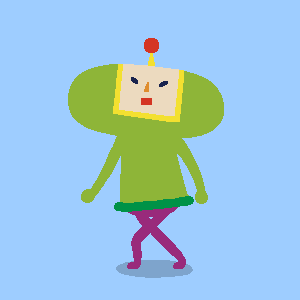 The Prince (also known as the Dashing Prince, or the Prince of All Cosmos) is the main character and silent protagonist of the Katamari series and usually the first playable character. He is the son of the King of All Cosmos and the Queen of All Cosmos. His grandfather is the King's Father.

Throughout the course of the games, the Prince is entrusted with the task of rolling a katamari (or something similar), for the sake of filling requests or creating celestial bodies. In Katamari Damacy, the Prince was tasked with using katamaris to create stars for the King after a drunken night of cosmic destruction. When the King realized what he had done, he unceremoniously sent the Prince to Earth, sent him a few Katamaris, and told him which stars to make. Despite being constantly told what to do, the Prince puts his all into everything he does, and always does his best.

Read the full article on the Prince.

View all featured articles.
Featured media
Touch My Katamari - Star King
View all featured media.
What's new on Katamari Wiki
New Admins by Missdisneylandninja

Hi, this is Missdisneylandninja. Knowing that Telepin has left this wiki, I decided to take over as a new admin. We need all the help we can get, so feel free to edit, but be aware that I can change some edits if I find something unusual about them. TaraHolbrook is another new admin who will be assisting me.
Missdisneylandninja (talk) 18:58, February 28, 2014 (UTC)Missdisneylandninja
View all news.
Contents
Helping out
We need articles! If you have an idea for an article, just put in the title here.
Not sure where to start?
Adding content
Talk and more...
Check out the community portal to see what the community is working on, to give feedback or just to say hi.