Featured article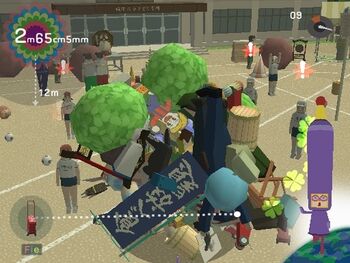 We Love Katamari (or We ♥ Katamari, see cover art), known in Japan as Minna Daisuki Katamari Damacy|みんな大好き塊魂|Minna Daisuki Katamari Damashii. roughly "Everyone Loves Clump Spirit" is a video game published by Namco for the Playstation 2. It was released in Japan on July 6, 2005, in South Korea on July 28, 2005, in North America on September 20, 2005, and in Europe on February 2, 2006. It is the sequel to the previous year's sleeper hit, Katamari Damacy.



Read the full article on We ♥ Katamari.

View all featured articles.
Featured media
Katamari - Dan Don Fuga
View all featured media.
What's new on Katamari Wiki
New Admins by Missdisneylandninja

Hi, this is Missdisneylandninja. Knowing that Telepin has left this wiki, I decided to take over as a new admin. We need all the help we can get, so feel free to edit, but be aware that I can change some edits if I find something unusual about them. TaraHolbrook is another new admin who will be assisting me.
Missdisneylandninja (talk) 18:58, February 28, 2014 (UTC)Missdisneylandninja
View all news.
Contents
Helping out
We need articles! If you have an idea for an article, just put in the title here.
Not sure where to start?
Adding content
Talk and more...
Check out the community portal to see what the community is working on, to give feedback or just to say hi.
Ad blocker interference detected!
Wikia is a free-to-use site that makes money from advertising. We have a modified experience for viewers using ad blockers

Wikia is not accessible if you've made further modifications. Remove the custom ad blocker rule(s) and the page will load as expected.