Hans is a cousin who has a head that looks like a rice bowl. Unlike some cousins, his face is on the top of his head. He first appeared in Me & My Katamari.
Appearances
Edit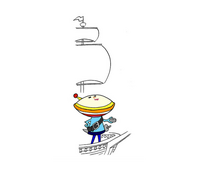 Where/How to Find: Corn State - Crossing the long bridge
Size: 150 Meters
Description: Has the perfect body for lying around and watching TV. He is always tripping over things.
When Rolled Up: "Hmm... We feel something cozy. It's The rookie Hans! Contemplating the Cosmos?"
Where/How to Find: Munchies Manor DLC - By a wall in the entrance to the shop, where a sumo is blocking the door
Size:
Description:
Cousin Leaderboard Description:
When Rolled Up: "Hm? Something fragrant... It's Hans! We asked you to go dance for the queen!"
After Clearing Stage: "A whiff of fragrance... Ohisashiburi, Hans. Get yourself to the kodo session in the Princedom."
Where/How to Find: Make a Star 2: Calories - In the small room that houses the entrance to the shop. Turn right and he should be on three packages of rice.
Size: We are unsure...
Description:
When Rolled Up: "That thing you rolled up was staring at the sky. PROCESSING... Oh! It's Hans! What's with that head? Doesn't that hurt?"
Ad blocker interference detected!
Wikia is a free-to-use site that makes money from advertising. We have a modified experience for viewers using ad blockers

Wikia is not accessible if you've made further modifications. Remove the custom ad blocker rule(s) and the page will load as expected.